What 3D model formats do you currently offer?
Poser formats. We offer 3D models and assets in .pp2 Poser and DAZ Studio format. DAZ 3D Genesis specific figure clothes are in the .dsf format. Poser specific clothes are in .cr2 format.
FBX 3D model format. We also offer 3D models in FBX 7.1 format (2011 binary, embedded textures). The FBX format models import seamless into Unity 3D, Lightwave, 3ds max, Cinema 4D, Maya, Blender, Shade, Modo, iClone, and other 3D software applications that supports FBX 7.1 file format imports. Most 3D software since 2011 should import the 7.1 binary format without any issues.


What kind of textures are included with the 3D models?
We provide texture maps and in many cases BUMP map textures for the 3D models we offer. In some cases where a solid color is used, it may be applied as a texture / shader without a texture map. The solid textures do export perfectly in the FBX format. All Poser format models have a runtime path set up and the textures are included. Unless noted all models are UVmapped.
What versions of Poser and DAZ Studio do the Poser World models and other content work in?
All of our Poser / DAZ Studio 3D models work in Poser 5 through Poser 11 and all version of Poser Pro, and all versions of DAZ Studio.
Once I purchase a model how quickly may I download it?
All 3D models and assets purchased are immediately available for download. They are available in your account under "Downloadable Products". If you are logged in, you may either click your email address at the top of the store pages to access your account or use the customer links at the bottom of all pages.
What are Rewards Points?
Every time you spend $20.00 in our store you will receive one reward point (value = $1.00), you may redeem the reward points towards future purchases at any time.
I used PayPal to pay but didn't finish the order. Where is my order?
If you went through the PayPal check out at our store but did not complete the order at the PayPal website, or clicked the return to our store link at PayPal, you will find your order in your account under orders. The order will be marked pending. If you click the pending order detail it will provide an option to retry your payment (at PayPal). Once you do the order is then completed and you may then download your purchases.
I want to use a credit card but I only see a PayPal payment option. What can I do?
If you do not have a PayPal account or do not use PayPal, you may still use a credit card (Visa, MasterCard, American Express, Discover) by checking out on the PayPal payment page as a "guest". It is an option below the regular PayPal login option.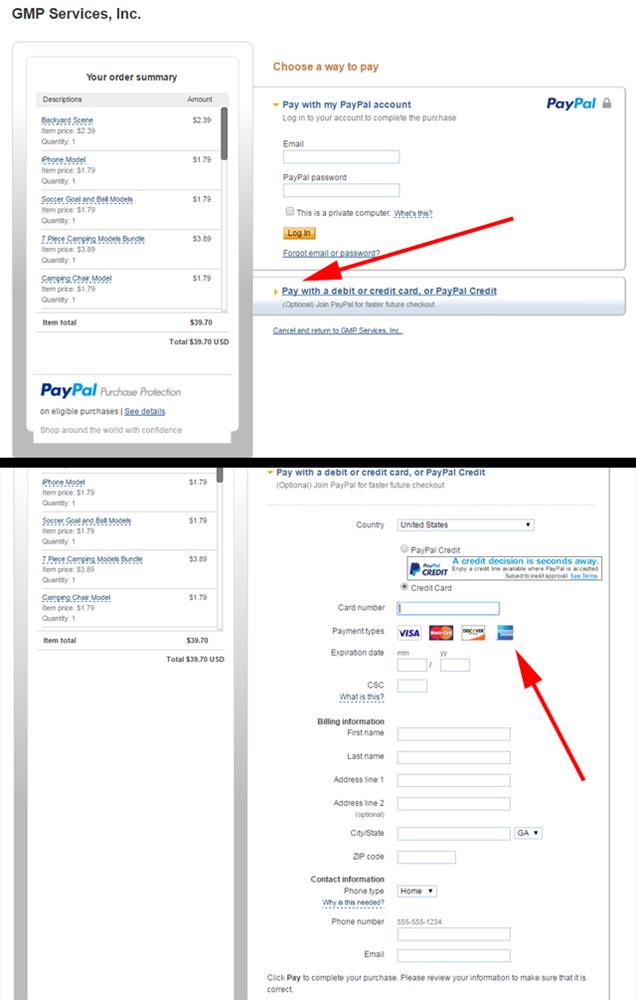 I purchased or was given a digital gift card code to use on Poser World. How do I use it?
There is a "gift card code" box on the shopping cart page. Each time you check out use the gift card code in the box until the balance is exhausted. Like presenting a physical gift card at a store, you must use the code each time you wish to make a purchase at our store. The box is only visible when you have an item in your shopping cart.
I want to get a free 3D model you have in the store. How should I checkout to get it?
When checking out in the store with nothing but free 3D models in your cart use the "credit card" option (not PayPal) and you will not have to enter any billing or payment information. If by accident you use PayPal you will receive an error when checking out.
I am having an issue with a 3D model or asset or have a question. How do I get help?
You may contact us about any issues or questions you may have.
What kind of usage license to you offer for your 3D models?
All of the 3D models and assets available on Poser World 3D include a royalty free license for commercial (and personal) use. You can read the license here.
Will I get emails from the Poser World store?
The only emails you will receive from the Poser World store are: When you register for the store, if you make a purchase, if you use our contact form to ask a question, if you purchase a shippable item (you will receive an order shipped email) or request a password reset. We do not send any other emails to our customers, with the exception of an occasional holiday specials reminder (no more then three times per year on average).
If you wish to be kept up to date with new model releases we suggest that you sign up with our weekly email newsletter. The email newsletter is sent out no more than once per week. It is a double opt-in newsletter. When you signup you will be sent a confirmation email with the a link that must be clicked on to be added to the newsletter list. You may unsubscribe at any time (if you do you are removed iimmediately).