Products tagged with 'convenience store'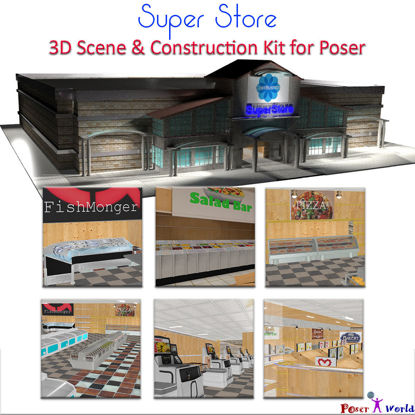 The SuperStore a fully customizable supermarket construction set with the exterior and interior modeled in contemporary design. All supermarket departments are featured with service counters, shelving, refrigerators and merchandising signs and checkout equipment. Camera and Poser Light presets are included. Material shaders are optimized for Superfly & Firefly renders, enable Indirect Lighting for realistic lighting effect. A 3d mega-mart multi-department supermarket scene and custom store construction set for Poser. The SuperStore figure loads oriented with the SuperStore Shopping Plaza set bundle modules and is detailed inside and out. All that is needed for the grand opening is inventory so checkout the matching scale Grocery Shelf Stock scene and prop bundle set for one click shelf stocking. Check out the details and prop list below.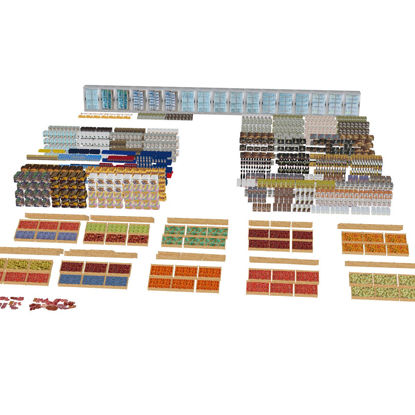 Enough unique product inventory to stock a supermarket! Each independently modeled prop item is bundled in groups to facilitate shelf stocking. The product props have custom designed, yet semi-familiar brand types. each quad poly modeled and panel uv mapping for easy customization and conversion. Shelf stock grocery inventory for supermarkets with many original product brands in many diverse food categories to stock a virtual supermarket. The included figure stock set will pre-load 987 inventory items on the SuperStore shelves with a single click. Check out the details and prop list below.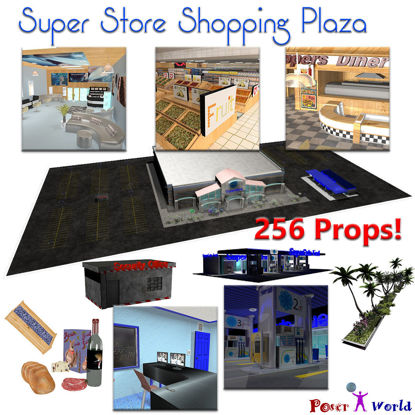 SuperStore Shopping Center bundle for Poser (Includes Optional Add-On Sets, referenced below.) A PoserWorld exclusive. The SuperStore a fully customizable, modular complete shopping center construction set. The included SuperStore, a fully stocked multi-department supermarket loaded with Grocery Stock inventory (256 individually modeled items), Shopper's Diner cafe restaurant, Beauty Salon, Super-Cuts Fuel Station, Landscaping and a lighted Parking Lot and shopper's safety Security Office building. The complete SuperStore Shopping Center Set for Poser includes 8 striking scene sets, combined is 1320 prop instances,30 Camera and 102 Poser Poser Light presets. Material shaders are optimized for Superflyand Firefly, enable Indirect Lighting for dramatic lighting effect. Check out the details and prop list below.