Products tagged with 'burger&fries'

Stylistic materials make this Salon a beauty, and one-piece prop design, indirect lit scene with fixture lighting and multiple perspective cameras make it simple to realistically stage and render. There is a waiting lounge area, 4 stylist stations, hair and cosmetic displays, and service counter.

Shoppers Diner Cafe (Prop Set for Poser), a complete, fully fixture lit fast food restaurant set with dining room, service counter and fry kitchen. A detailed 3d restaurant scene featuring Shopper's Diner Cafe, a module and independent prop set for Poser 3d graphics software. The prop set includes 2 types of diner tables and chair furniture, fast food fry kitchen equipment including, fry grill range with flipper and bun warmer, prepared foods cooler and deep fryers. Lighting and camera parented to scene figure that loads aligned with the Superstore Shopping Plaza scene bundle modules. The dining area includes staged furniture props, each chair and table (two types) has customization material zones. The kitchen area includes a griddle, double deep fry stations. The griddle includes grease hood, flipper and bun warming drawer that is opened/closed by morph. The fryer includes a morph that raises and hangs the fry basket from the hot oil. There is a separate Cafe sign for when used in the greater SuperStore Shopping Center Scene.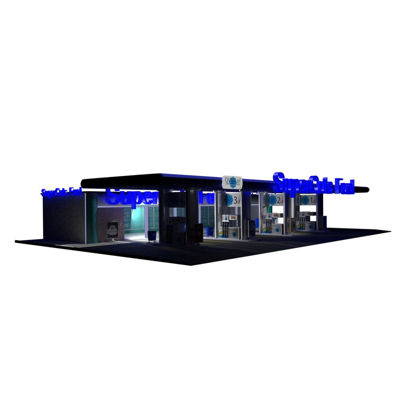 Your neighborhood discount fuel station is fully lighted scene with quick-mart and 8 pumps modeled. There are coolers textured along the back wall of the quick mart, and floor to ceiling windows face the self-serve fuel pumps. A 3d gas station and quick mart type convenience store figure and prop set for Poser, The figure load oriented in scene with the "SuperStore Shopping Plaza" bundle scene set and the prop version of the SuperCuts Fuel Station prop is used for pipeline export and custom scene building. Licensed for Commercial and Consumer 2d and 3d realtime rendered media projects and game development.